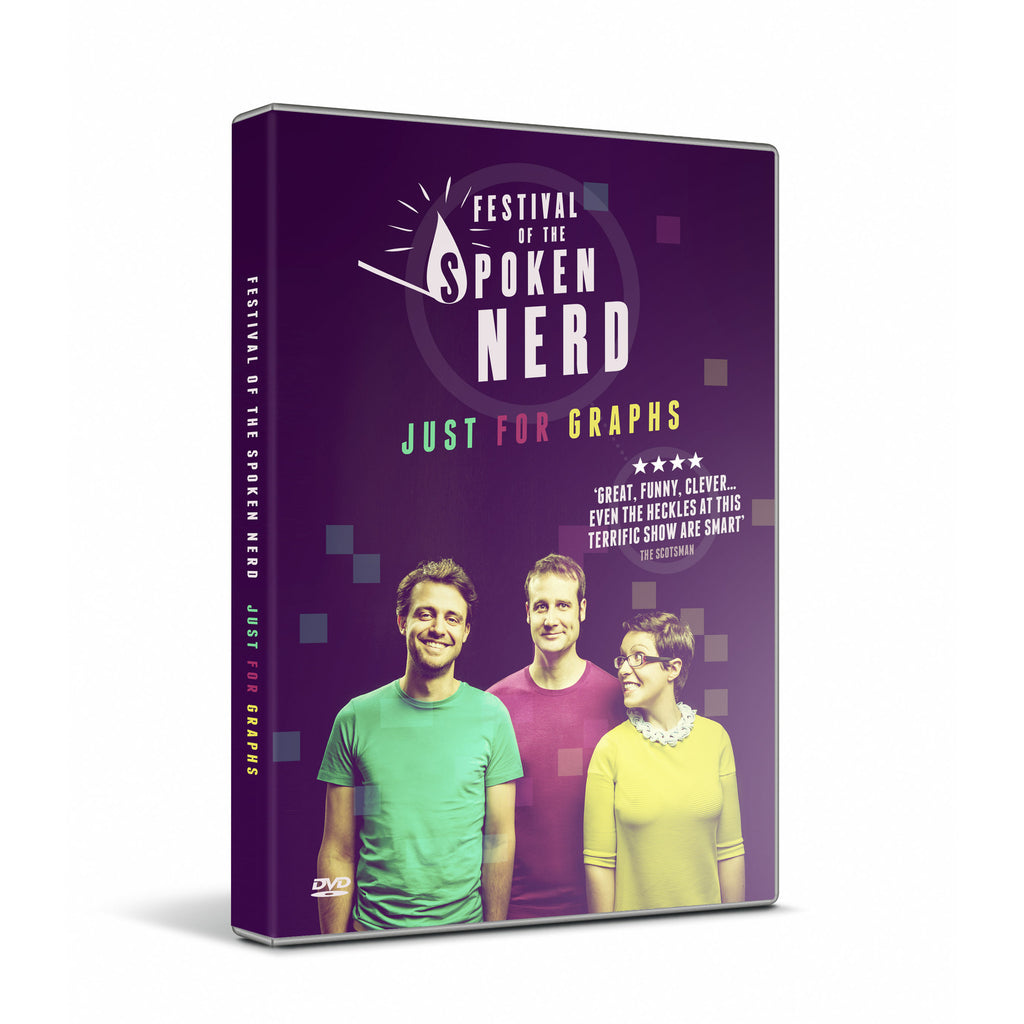 Just For Graphs DVD
£9.42
SOLD OUT? NOT REALLY! This product has been replaced by a version that includes a free instant download of Full Frontal Nerdity. Click here to buy that instead!
It's here! A special recording of our latest graph-a-minute stage spectacular, full of electrifying experiments, scientifically verified songs, mind-bending maths and fire-fuelled fun with a fax machine solo. After touring Just For Graphs around the UK to over 15,000 nerds and non-nerds, we've finally committed it to a universally playable format.
Buy from us and your DVD will come signed by all the Nerds. Or if you're in a hurry you can get an unsigned copy from Amazon. The show is also available as an immediate download here, luxury download gift pack here, and on limited edition VHS format here - that's not a joke.
Get your signed copy for just £4π (£12.57)
You can buy our other shows Full Frontal Nerdity and You Can't Polish A Nerd on download, DVD and floppy disk as well, click here for more.
Will it work in my DVD player?
This DVD is not region locked, but it is in PAL format. It will work on most modern DVD players and laptops, but we cannot guarantee this (especially in North America where NTSC reigns supreme!) so please check your system before ordering. More on PAL vs NTSC is here.
What's in the box?
92 minutes of Just For Graphs, filmed live at London's Albany Theatre.
Subtitles in English.
Four Director's Commentaries: one from each nerd, plus bonus VHS-themed commentary from Robin Ince and director Trent Burton.
16-page fold-out poster containing off-the-chart nerdity.
This DVD has been classified by BBFC as suitable for ages 12 and over.
For retail enquiries and bulk orders, email shop@festivalofthespokennerd.com
What the critics said about the show
**** "Somewhere between Dave Gorman and The Big Bang Theory lies nerd-heaven... hilarious" (Latest 7)
***** "Hugely entertaining show - and not just for nerds" (Tickit Reviews)
**** "Bustling with brain-teasing excellent; fun with fire, singing and super awesome experiments" (Mumble Comedy)
**** "So much fun... and flames... who knew formulae could be so funny?" (One4Review)
Related Products