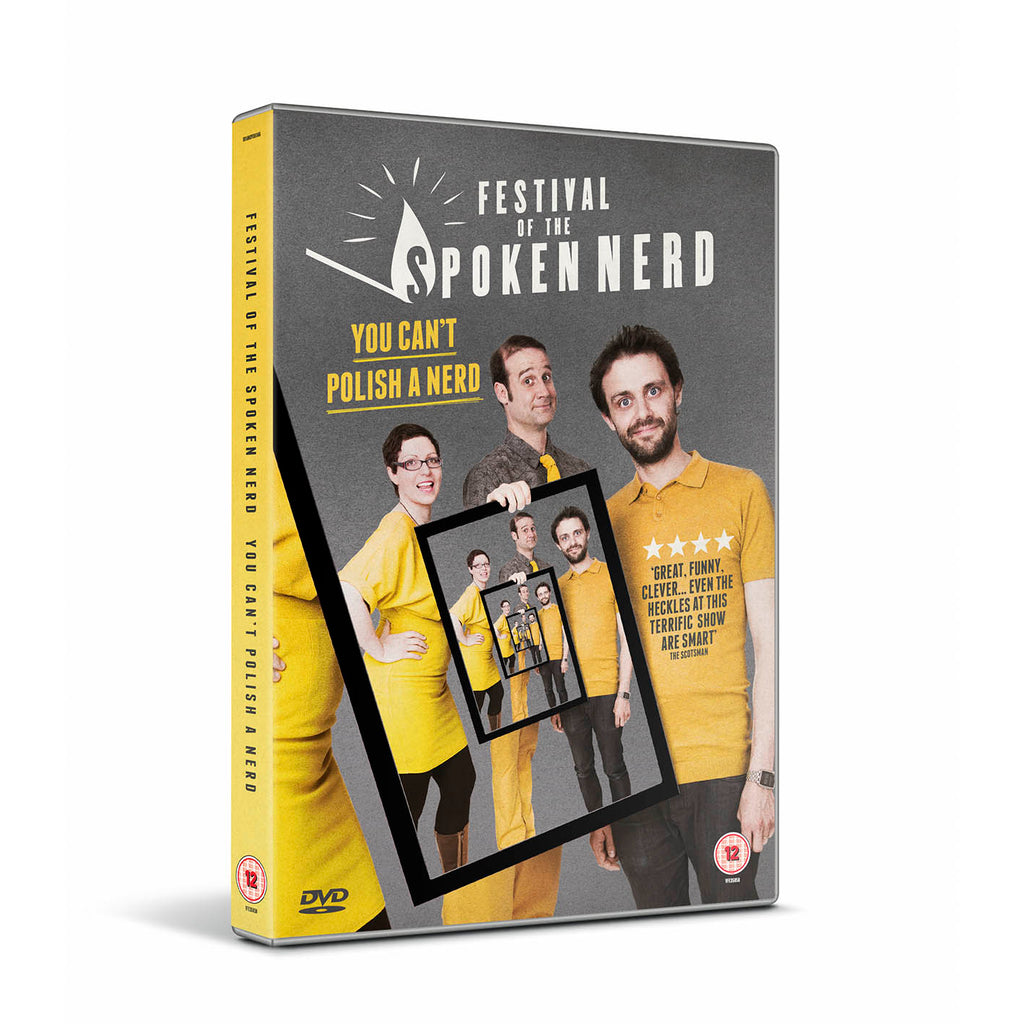 You Can't Polish A Nerd DVD + free download
£12.57
At last! The Nerds have recorded their latest tour show You Can't Polish A Nerd and you can own the results on DVD and download!
It's guaranteed to put the "oooh" into zoology, the "fun" into fundamental theorem of calculus and the "recursion" into recursion in the ultimate show for nerds and non-nerds. 
FESTIVAL OF THE SPOKEN NERD 10th ANNIVERSARY SALE - UNSIGNED DVDs REDUCED TO JUST £3.14! 
Buy it from here and your DVD will come with a free HD download version of the show. The show is also available as a download from here or on iTunes, Amazon Video, Google Play, Microsoft Store and YouTube Movies. Also available: T-shirts!
You can also buy our other shows Full Frontal Nerdity and Just For Graphs on download and DVD, click here for more.
Will it work in my DVD player?
This DVD is not region locked, but it is in PAL format. It will work on most modern DVD players and laptops, but we cannot guarantee this (especially in North America where NTSC reigns supreme!) so please check your system before ordering. More on PAL vs NTSC is here.
What's in the box?
107 minutes of You Can't Polish A Nerd, filmed live at London's Arts Depot theatre.
Subtitles in English.
"Safer For Schools" soundtrack.
Five hours of behind-the-scenes commentaries from Matt, Steve and Helen.
Matt's infinitely long DVD Unboxing Video.
16-page booklet full of bonus nerdity and experiments to do at home.
This DVD has been classified by BBFC as suitable for ages 12 and over.
How do I play the free download?
The download is in .mp4 format, which will most likely play just fine on your default video player, such as VLC (our recommended player, available here), MPlayerX, Windows Media Player, or the latest versions of Quicktime and iTunes.
How do I access the subtitles and extra audio tracks?
Some media players are better than others at handling multiple audio tracks and subtitles. 
If you have problems accessing the bonus features on your default player, we recommend downloading free video player VLC for Windows or Mac (www.videolan.org). It definitely plays the file in our download and all the bonus features.
For retail enquiries and bulk orders, email shop@festivalofthespokennerd.com
About the Spoken Nerds
"Science was never such hilarious explosive fun" (Richard Herring)
"They make science fun and understandable which is a great combo" (Sandi Toksvig, BBC QI)
''Made me go Hydrogen Argon, Hydrogen Argon, Hydrogen Argon" (Rufus Hound)
"These nerds are the real deal" (Ben Goldacre, Bad Science)
What the critics said about the show
**** "Fantastic and funny… you don't need to be a nerd to enjoy this show" (Broadway Baby)
"The nerds are back, and they're bigger and better than ever" (Redbrick Magazine)
**** "Sharp wit and quick thinking… a fantastic night of comedy" (The National Student)
"Part of rationalism's desperate rearguard action" (Sunday Times)
Related Products